Well, it's been a slow start to the year down in SC PA. We've only been fortunate enough to have dry weather on the weekends for the most part, so activity down here has been minimal. However, I did manage to get out a few times.
June 1, 2014 took me to Lake Marburg in Hanover, PA. This large lake (22 miles of shoreline) is unique, in that it overlays a flooded town that was purchased by Glatfelter Paper Products. They dammed up Codorus Creek and flooded the town, creating Lake Marburg. Surrounding this is land that is managed by DCNR as a State Park, Codorus State park. Glatfelter uses water from this lake for their paper mill operations occasionally, but the lake is open to fishing, with the appropriate PA License. The lake has bass, panfish, musky, pike and both yellow and white perch; and it periodically receives stockings of rainbow trout. It offers both clear and stained water fishing, on the same day. On this date, I opted for clear water. Before hitting the lake, I stopped by B&B Lures to see if they had any fishing reports. The bass were in 4-6′ of water about 3-4′ off of the banks; and soft plastics were the ticket of the day. I caught several bass, but the lunker of the day came on a 5″ Tickler from Power Team Lures in Watermelon Red. 17″ LMB, a good size for this lake and it ties my personal best here. It was also slime time for my new SmallieStix custom 7′ M/F rod.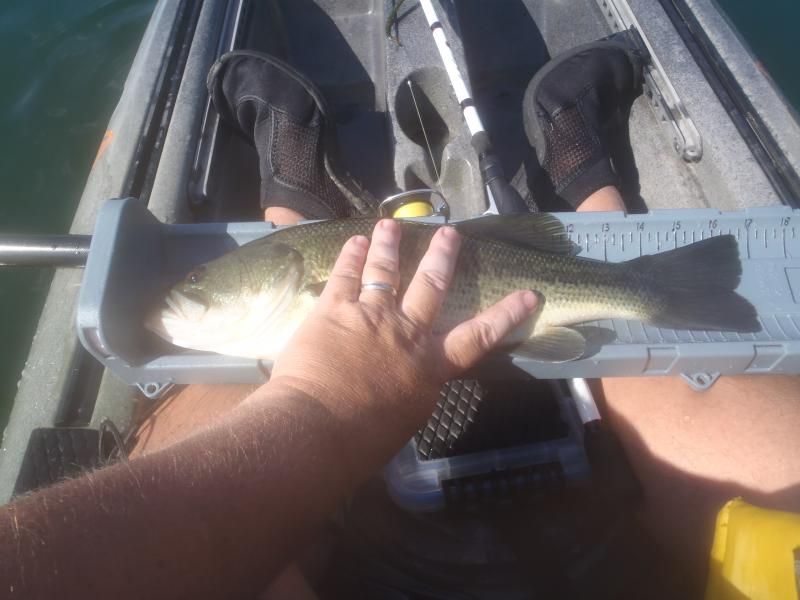 The next few days saw a couple of morning trips that were not fruitful at another lake, Gifford Pinchot. The weekend passed with me unable to get out due to obligations on Saturday and the threat of thunderstorms on Sunday. Finally, on Tuesday Night, I was able to get a couple of hours of fishing in at Pinchot. And, I was not disappointed, except by size. I had been fishing for about 45 minutes near a bank, using the Powerteam lures 5″ Sick Stick in Green Pumpkin with purple flake and I felt a 'thunk' on my third lift. My line moved sideways and I as soon as I applied back tension, the bass jumped out of the water. I could tell it wasn't a giant bass, but he thought he was a Florida Largemouth for sure. Twice more, it attempted to unhook itself by leaping like a dolphin, then tried to dive under my kayak. Eventually, I got it home and found it to be only a mere 12″ bass with a Napoleonic complex.  I released it to fight another day.  About 30 minutes later, another tell-tale thunk and sideways run, same lure but this time fishing the edge of a hydrilla mat on my way back to the launch. When I got this bass back to the boat, it was another 12″ shorty, released to get bigger. Since it was getting dark, I made a few more casts, then paddle back to the launch to go home for the night.
At least the Pinchot skunk is off!