It's been a while since I've had a fishing report–between the HOW outing in July and two fishing trips with John 'Toast' Oast, the better reports have come from John and the team up north. I have had a number of skunk days down here; DCNR decided to cut the weeds at my local lake, and that puts a damper on fishing; since it puts the bass out of their usual pattern. Of course, this year the usual pattern for Pinchot hasn't worked at all; ordinarily there are numbers of decent fish in the one section dominated by lilly pads; but that section has not contained fish all year; which is cery odd indeed.
I launched at 0630 today at the launch for the lily pad cove, but paddled under the bridge to get up to an area by the swimming beach that often contains fish. The morning fog was rising off of the lake as the sun slowly rose over the lake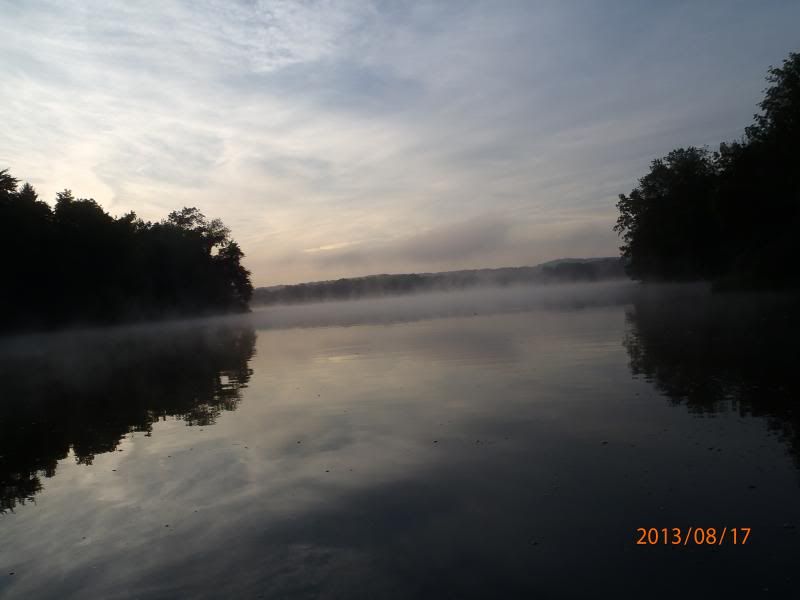 After a 15 minute or so leisurely paddle; I made a couple of casts and was greeted with a blowup near the surface as I twitched my Zoom Speed Worm back to my kayak. After a brief fight, a couple of head shakes and a run under my kayak, this little bruiser was revealed: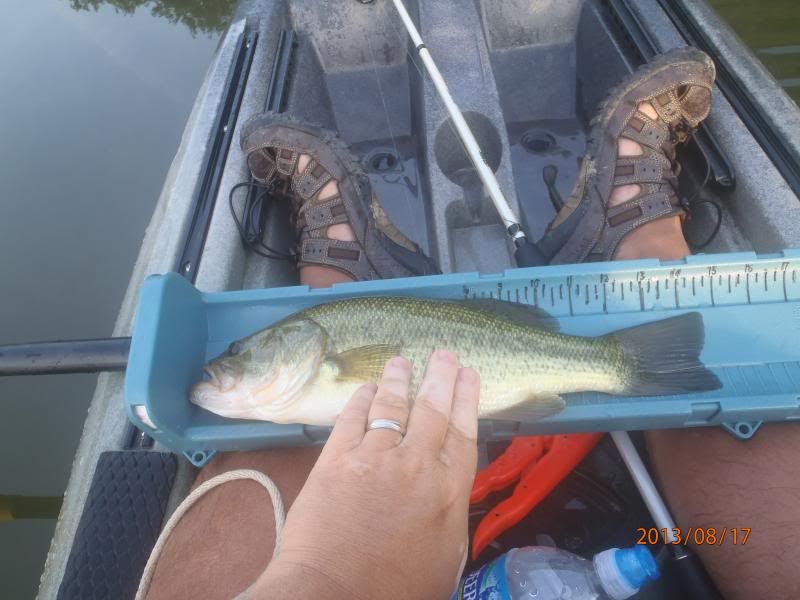 I continued fishing the area; but had to paddle around several boats that were also working the shoreline, and fished my way back under the bridge to the launch point. A couple of guys had said an angler was getting on them back in the lily pads, so I decided to try the area myself. I wanted to give the bass some time to recover from the fishing pressure, so I paddled back to a cove along the creek. On the way, I spotted this creature sunning on a tree along the edge of the bank:
Unfortunately no other bass were caught–but it was a beautiful day on the water; and there was an abundance of wildlife, from Osprey, to Green Heron to Kingfishers. A great morning to relax.