This morning I hit my local lake in order to get a last trip in before things get underway for a 2-week fishing break. Gifford Pinchot is always an interesting lake to paddle, even if you don't catch any fish. The diversity of wildlife alone makes it worthwhile. On any given trip you might see deer, hawks, eagles, osprey and a host of other wildlife. I've even heard a bear huffing off in the woods surrounding the lake. Usually we get the recently ousted young bears wandering through looking for territory to call their own. This morning was no different, as I saw an owl. I'm not certain of the species, as I wasn't close enough to really make out the markings. I've never seen one out at the lake in the early morning or late evenings–but heard plenty after dark while fishing. Mr. Owl hung out with me and watched me fish for at least 30 minutes. He saw me catch my first fish (about a 10″ little guy) and also saw me catch the big fish of the day, a 15″ LMB, taken on a Zoom Speed worm.
Mr. Owl was content to watch me fish, and even endured being harassed by smaller birds while doing so. As a bird would swoop and scream at him, Mr. Owl would nonchalantly duck. It was fun to watch, and nice to have 'company' while I fished.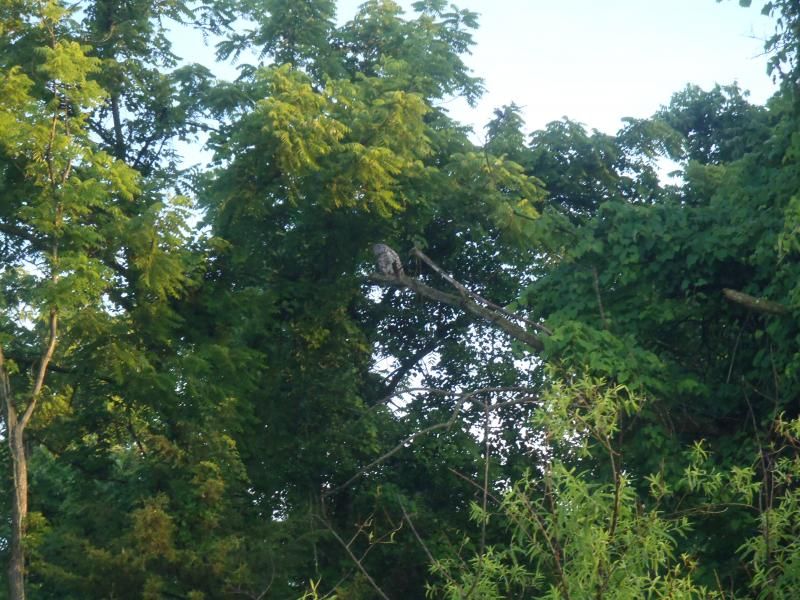 Of course, no trip to Pinchot is complete without a mandatory shot of the sun, rising over the trees, with the fog wisping over the lake.

One small moment of concern; I pulled a small bass out of the lake with some sores around the mouth. I'm not a biologist; but I've never seen any sores like this. I'm hoping it's just natural and stress related or maybe a bit of a hurting by another fish or crayfish.

All in all, it was a great morning on the lake, and a good way to go into my enforced hiatus for the next two weeks. Tight Lines everyone! See you in July!