On Saturday, Andrew Morrow, Brad (henceforth known as 'The Beast' because he can single handedly cartop a Big Tuna on his Honda Element) Gilmore, smif42 (Ken) and I all hit Lake Marburg. We launched a little after 6am at the Black Rock Road launch, and worked the Black Rock Cove area with out a bite. The Carp King was back at the launch, with his array of rods .
We started working our way up toward what is typically called the 'First Bridge' and about halfway stopped fishing and just started paddling, since the only taker was an 8″ bluegill on a crankbait caught by Andrew. Andrew and I fished the bridge area a bit, then started working our way down the left side, while Ken and Brad worked the Right side. Andrew got his first 'pig' LMB of the day at 4.75″ and I got this small 15″ LMB working my go-to Zoom Speed Worm: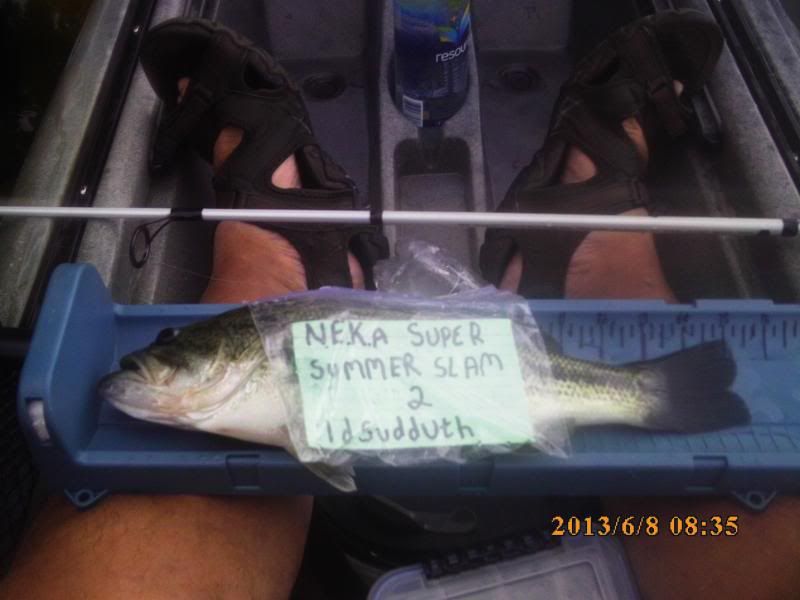 I caught a 'pig' that I guessed to be around 4-5″ along the shoreline and another 13″ LMB: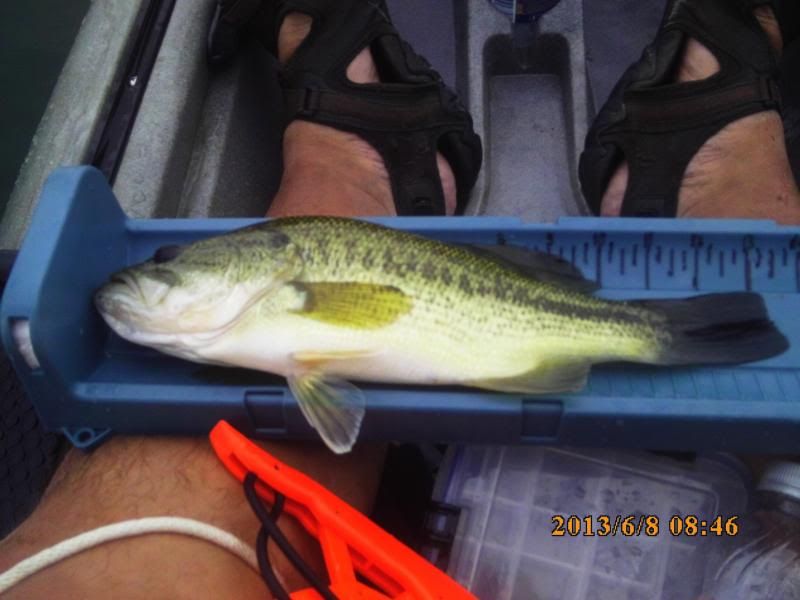 We worked our way around to the Smith Station Road launch, were some guys were carp fishing–they had serious rigs like the 'Carp King' and caught a nice Carp that was at least 24″.
I caught another 9-10″ pig and by this time Ken and Brad had made their way across the lake. Ken had caught an 8″ Rock Bass by this time. Brad tied on a chartreuse Chatter Bait and on his first Cast, caught the PIG of the day, an 18″ LMB:
Since Andrew had to leave at 11, we started making our way back slowly to the Black Rock Road launch. We explored another cove without any takers and paddled back. While we were loading up, the 'Carp King' caught a couple of nice carp–both over 24″ to be sure. Just to record this for posterity, Andrew made a video of 'The Beast' loading up his Big Tuna (it used to be Andrew's Big Tuna) overhead, upside down and on top of the Honda Element, and Ken peddled up. Ken had the most species of the day, with Perch, Crappie, Rock Bass and LMB. Brad won Big Fish with that 18″ pig LMB..
I think another outing is in order.