2013 marked my second year fishing from a Kayak, and marked a year with a number of accomplishments and discoveries.
Accomplisments;
Over 100 bass boated, over 50 bass over 12″.
 New bodies of water explored–Laurel Lake, Marburg, Long Arm, Conewago Creek, Susquehanna North Branch.
New Personal Best LMB and SMB
Discoveries:
I am a better finesse angler than I am a power angler; spinnerbaits (other than inline spinners) are not a lure I catch bass on.
I use far less than I carry, consequently I have re-designed my equipment for most days on the water, and with the exception of muliple-day trips I will no longer need a crate, other than to carry my equipment in the car.
Comfort issues with the Wilderness Systems Ride 135 that affect me personally. Originally, I thought perhaps my lower back pain experienced my first year was the result of a poor seat configuration; but after trying multiple arrangements I am finding that the lower back pain is the result of the seat design. I will likely only fish one more year in this kayak before selling it and getting something else. Both  the Jackson Cuda and the Old Town Predator appeal to me; and I will need to make a decision on which one.
With my discoveries, for 2014 I will make the following adjustments:
A 3-rod Arsenal:

6'8″ M/XF Shimano Sellus Spinning/Okuma Stratus CX-25 reel for weightless/wacky rigs
7'1″ M/XF Shimano Sellus Spinning/Abu Garcia Orra SX-20 reel for jig/shakeyhead
7'2″ MH/F Shimano Sellus Spinning/Abu Garcia Orra SX-20 reel for inline spinner/crankbait fishing
All reels spooled with 30# Hi Seas Yellow Braid, tipped with a 12# Yozuri Hybrid leader.

Reducing the amount of equipment I carry for excusions lasting less than a day

3500 Series Waterproof Plano Box for carrying terminal tackle
3600 Series Double Sided Plano Box–cranks, rat-l-traps, inline spinners
Speed bag of soft plastics: Craws, Grubs, Senkos, Worms
In addition to making adjustments to my Fishing technique and what I take on the water, I'm resolving to be more small-business focused:
Supporting more small business-based lure companies
Supporting local Kayak and Tackle Shops–no more big box stores.
And now, to end this article, I will toss up some photos of some big fish from this year:
Largemouth Bass (17″)
My PKFA.org friend, Johnson Outoors Pro-Staff John 'Toast' Oast with a North Branch Susquehanna Smallmouth bass: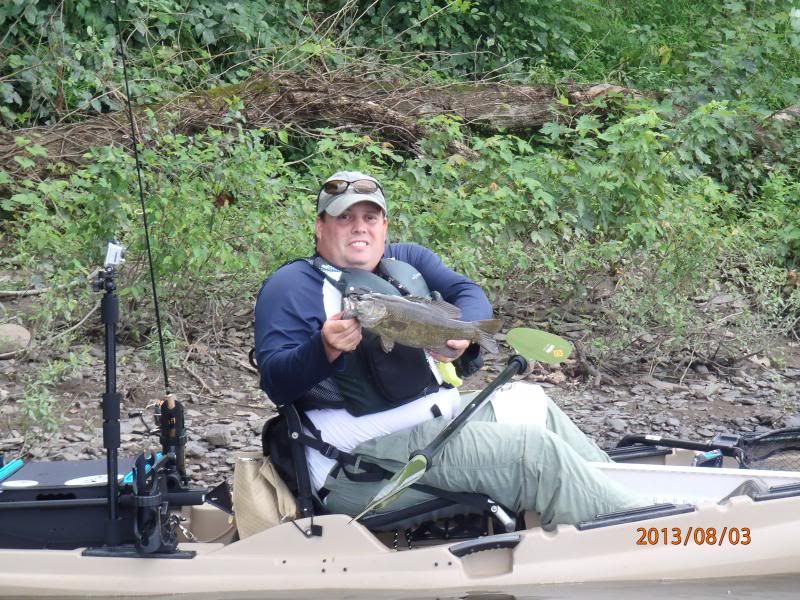 Nice 15″ Conewago Creek Smallmouth Bass: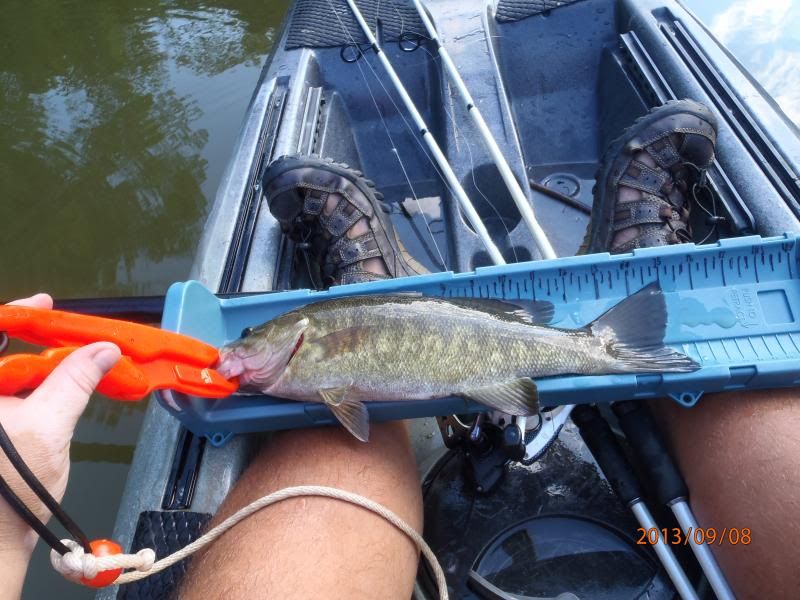 Personal Best—17″ SMB caught on the North Branch of the Susquehanna